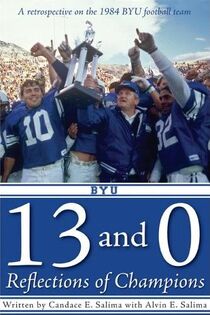 13-0: Reflections of Champions
is a book written by Candace E. Salima and Alvin E. Salima.
Description
Edit
Could a college football team from the Rocky Mountains be crowned the best in the land?
The idea was unthinkable—until BYU's 1984 team took the national championship.
The Cougars' perfect season left traditional college football powerhouses by the wayside, mesmerizing the national media and energizing fans. That year has been the stuff of legends ever since.
What made that year so unique—and where are the players now?
Inside this book you will find: • Compelling summaries of each game • Biographies of thirty players and coaches • Dozens of photos, including current ones of players' families • Players' thoughts on how the season changed their lives • The positive ripples still seen as a result of that unforgettable experience
Product Description
Edit
Paperback: 304 pages
Publisher: Spring Creek Book Company (August 3, 2005)
Language: English
ISBN-10: 1932898336
ISBN-13: 978-1932898330