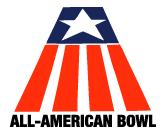 The 11th annual All-American Bowl began with temperatures in the 40s and BYU never warmed up. The Cougars' 10th consecutive bowl appearance included several records, but BYU lost 22-16 in its first-ever meeting with Virginia. Sean Covey attempted 61 passes, David Miles had 188 yards in receptions and Pat Thompson only punted once, but BYU fell short several times.
Darren Handley
, BYU's leading receiver, dropped a touchdown pass in the first quarter before BYU settled for a 20-yard field goal by
Leonard Chitty
. However, Chitty, who set a season mark for field goals (18) and consecutive PATs (29), missed from 51 and 47 yards as Virginia took a 14-3 lead into the intermission. BYU got to the Virginia two-yard-line midway through the third quarter only to have a fourth-down pass tipped away. Later, Freddie Whittingham scampered eight yards to cut the lead to 14-9 at the end of the third quarter. Virginia, led by quarterback Scott Secules, the game's MVP, made a crucial 76-yard drive to go ahead 22-9 with 11 minutes left. Then, BYU went the same distance to score on a one-yard pass to Whittingham with seven minutes remaining. But that was as close as the Cougars would get. Ironically, nine years earlier on the same date Virginia Coach George Welsh led Navy to a 23-16 win over BYU in the inaugural
1978 Holiday Bowl
Ad blocker interference detected!
Wikia is a free-to-use site that makes money from advertising. We have a modified experience for viewers using ad blockers

Wikia is not accessible if you've made further modifications. Remove the custom ad blocker rule(s) and the page will load as expected.