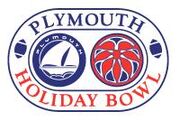 The Cougars took Big 10 Co-Champion Ohio State to the wire at the 16th annual Holiday Bowl and came up just short. BYU had four downs and 32 seconds to tie or win the game from the OSU six-yard line, but four straight
John Walsh
passes into the end zone fell to the ground and OSU slipped away with the win. BYU got to the Ohio State six, 14, 22-yard lines in the second half without scoring. Meanwhile, Raymont Harris, OSU's senior halfback, battered the BYU defense all night long, scoring three touchdowns on his way to a record 235 yards rushing. Despite Harris' rushing, the Cougars managed to go into the halftime break tied at 21.
Chad Lewis
made a spectacular one-handed touchdown grab in the corner of the end zone to bail the Cougars out of a fourth-and-eight situation. After Harris' short touchdown run late in the third, BYU and OSU traded possessions until late into the fourth quarter. After forcing a rare Buckeye punt, BYU got the ball back on its own 42 with 43 seconds left. On first down, Walsh hooked up with senior co-captain
Eric Drage
who ran away from Buckeye defenders and advanced the ball 52 yards to the OSU six-yard-line. Walsh had 389 yards and fullback Kalin Hall rushed for 42 yards on 11 carries. Tyler Anderson returned five kicks for 145 yards, including an exciting 45-yarder. Harris and Walsh shared MVP honors
Ad blocker interference detected!
Wikia is a free-to-use site that makes money from advertising. We have a modified experience for viewers using ad blockers

Wikia is not accessible if you've made further modifications. Remove the custom ad blocker rule(s) and the page will load as expected.