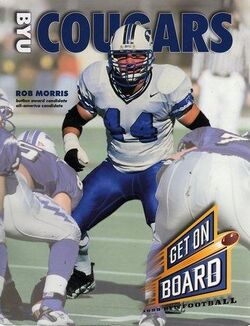 BYU won the first-ever
Mountain West Conference
Championship with an 8-4 season record (5-2 conf.) A 27-20 win over Air Force marks
LaVell Edwards'
250th victory as head coach of the Cougars. Junior kicker
Owen Pochman
becomes the school's all-time leading scorer, picking up 90 points on the season to give him a career total 247. A six-game winning streak in the middle of the season has BYU ranked as high as No. 12 in the USAToday/CNN Coaches' Poll. Running back
Luke Staley
is named Freshman All-American and conference Freshman of the Year, leading the nation's freshmen in scoring average with 78 points in eight games.
Rob Morris
returns from a four-game absence to earn All-America status. Morris is picked in the first round with the 28th overall pick by the Indianapolis Colts. The Cougars finish the season ranked first in the conference in total offense and rushing defense, as well as eighth in the nation in passing offense and 14th in the nation in rushing defense. BYU makes its first-ever
Motor City Bowl
appearance against Marshall. Edwards concludes the season with his 20th career conference title and 22nd bowl appearance in 28 years
See main page: 1999 Schedule
See main page: 1999 Roster
Ad blocker interference detected!
Wikia is a free-to-use site that makes money from advertising. We have a modified experience for viewers using ad blockers

Wikia is not accessible if you've made further modifications. Remove the custom ad blocker rule(s) and the page will load as expected.