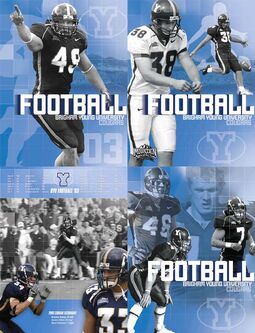 BYU posted back-to-back losing seasons for the first time since 1970-71 before
LaVell Edwards
took over the reigns of the program.
John Beck
became only the second true-freshman to start at quarterback for BYU when he started against Stanford. Running back
Reynaldo Brathwaite
recorded the longest run from scrimmage in Cougar history, a 95-yard score against San Diego State. Freshman tight end
Daniel Coats
was named to The Sporting News Freshman All-America team after posting 30 receptions for 378 yards and four touchdowns. The Cougars' NCAA-record scoring steak ended at 361 after being shut out 3-0 against Utah in the final game of the season. The last time BYU was shut out was when Arizona State blanked the Cougars 20-0 on September 27, 1975
See main page: 2003 Schedule
See main page 2003 Roster
Ad blocker interference detected!
Wikia is a free-to-use site that makes money from advertising. We have a modified experience for viewers using ad blockers

Wikia is not accessible if you've made further modifications. Remove the custom ad blocker rule(s) and the page will load as expected.