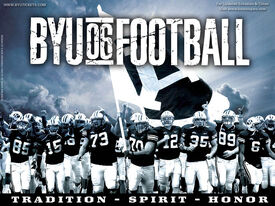 BYU knocked off 10 straight opponents, over the final three months to finish the 2006 season with an 11-2 record. The Cougars tallied a perfect clip against league opponents to win their first outright Mountain West Conference Championship since the 2001 season. BYU went on to dismantle Oregon, 38-8, in the
Pioneer PureVision Las Vegas Bowl
. The Cougars' 10-game win streak marked the longest since the 2001 season and only the seventh time in the program's history the Cougars have had nine or more consecutive wins in a single season. BYU earned top-20 rankings in the Associated Press Top-25, the USA Today Coaches Poll, the Harris Interactive Poll and the BCS rankings. With an impressive win over the Ducks in the Las Vegas Bowl, national voters ranked BYU No. 15 in the final poll of the season. Under head coach
Bronco Mendenhall
—the
Mountain West Conference
and AFCA Region 5 Coach of the Year—the Cougars led the MWC and ranked fourth in the nation in passing offense, averaging 323.5 yards per game during the regular season. The Cougars also led the league and ranked fourth in the country in total offense, producing an average 465.5 yards per contest. BYU also led the Mountain West and ranked fifth nationally in scoring offense, averaging 36.8 points per game. The BYU offense finished the regular season ranked second nationally in passing efficiency, posting a rating of 167.08
Defensively, the Cougars ranked fourth nationally and led the league in turnover margin, averaging +1.08 turnovers per game. BYU also made tremendous strides defensively, ranking 16th in the nation in pass efficiency defense (106.23) and 10th nationally in scoring defense, allowing just 14.7 points per game. BYU outscored its opponents during the regular season by an average 36.8 to 14.7 (+22.1). More impressively, the Cougars posted 138 first-quarter points and held opponents to just 15 points in the opening quarter of play throughout the season. After finishing 3-3 in Provo last season, the Cougars registered a perfect 6-0 record at home in 2006. Not only did the 2006 Cougars finish the season as the most dominant home team in the nation, but also they finished as the most dominant home team in BYU Football history. BYU averaged 47.2 points per game at LaVell Edwards Stadium while holding opponents to just 12.0 points per contest. The +35.16 margin not only led the nation in home scoring margin, but also set a new BYU record, eclipsing the old mark of +34.2 set in 1979. LSU finished the season behind the Cougars in 2006, posting a +31.9 home-field scoring margin.
See main page: 2006 Schedule
See main page: 2006 Roster
Ad blocker interference detected!
Wikia is a free-to-use site that makes money from advertising. We have a modified experience for viewers using ad blockers

Wikia is not accessible if you've made further modifications. Remove the custom ad blocker rule(s) and the page will load as expected.