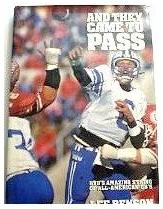 This is a book that tell the story Story of BYU's quarterbacks of the 70's and 80's and the coach who brought them to BYU, then turned it into a successful football program once again. Includes biographical profiles of Steve Young, Jim McMahon, Robbie Bosco and others. Illustrated with black and white photographs.
Product Details
Edit
Hardcover: 228 pages
Publisher: Deseret Book Co (August 1988)
Language: English
ISBN-10: 0875791557
ISBN-13: 978-0875791555
Ad blocker interference detected!
Wikia is a free-to-use site that makes money from advertising. We have a modified experience for viewers using ad blockers

Wikia is not accessible if you've made further modifications. Remove the custom ad blocker rule(s) and the page will load as expected.