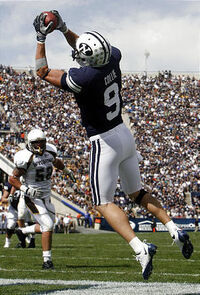 Austin Kirk Collie (born November 11, 1985 in Hamilton, Ontario, Canada)[1] is a Canadian American football wide receiver for the Indianapolis Colts of the National Football League (NFL). He was drafted by the Colts in the fourth round (127th overall) in the 2009 NFL Draft. He played college football for the Brigham Young University Cougars.
Pre-College years
Edit
Collie was born in Hamilton, Ontario. His father, Scott Collie, played football at Brigham Young University (BYU) from 1979–1982 and in the Canadian Football League (CFL) for the Hamilton Tiger-Cats. His older brother, Zac Collie, also played receiver for the BYU Cougars from 2003–2006. Austin served a mission for The Church of Jesus Christ of Latter-day Saints in Buenos Aires, Argentina. He was recruited by Stanford, Arizona, Arizona State, Washington State, Oregon State, Colorado, Utah, and UNLV before signing with BYU.
Collie starred as a wide receiver at Oak Ridge High School and garnered many awards. He was a PrepStar and SuperPrep All-American as well as being voted Northern California's Most Valuable Player. During his senior season he recorded 60 receptions for a total of 978 yards and 18 touchdowns. In 2004, Collie became an Eagle Scout.
In December 2009, Collie's hometown newspaper, The Sacramento Bee named him Sacramento Area's Player of the Decade (2000–2009).
Austin married Brooke Pendleton during his college reign in 2007; she is the sister to one of Austin's college teammates. The couple have one son, Nash (b. Dec. 2010)
College Career
Edit
In 2004, Collie was named MWC Freshman of the Year. He was also named the MVP of the 2007 Las Vegas Bowl and all–MWC first–team receiver in 2008.
Collie set a series of records during his three–year career at BYU (2004, 2007–2008).
Austin Collie, Reception Records in BYU Cougars football History[5]
| | | |
| --- | --- | --- |
| Category | Amount | BYU All-time Rank |
| Career receptions | 215 | 2nd (Dennis Pitta is 1st @ 221)[6] |
| Career receiving yards | 3,255 | 1st |
| Career receiving touchdowns | 30 | 1st |
Additionally, Collie was also one of the highest rated wide receivers in College Football during his junior season in which he was selected to the college football All–American team.
Austin Collie, 2008 NCAA receiving records
| | | |
| --- | --- | --- |
| Category | Number | NCAA Rank, 2008 |
| Receiving yards per game | 118.31 | 1st |
| Total yards receiving | 1538 | 1st |
| Consecutive 100–yard receiving games | 11 | Tied for 1st with Michael Crabtree |
| Receiving yards per catch | 14.51 | 3rd |
| Total receptions | 106 | 3rd |
| Touchdowns receiving | 15 | 4th |
| Total all–purpose yards (per game) | 162.46 | 12th |
On January 9, 2009, Collie announced in a press conference that he would forgo his senior year and enter the 2009 NFL Draft.[8] The Indianapolis Colts then drafted him in the fourth round.
Ad blocker interference detected!
Wikia is a free-to-use site that makes money from advertising. We have a modified experience for viewers using ad blockers

Wikia is not accessible if you've made further modifications. Remove the custom ad blocker rule(s) and the page will load as expected.