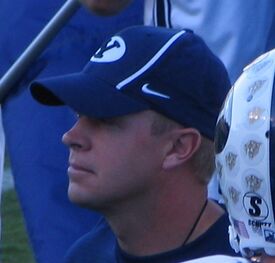 Bronco Mendenhall is currently the head football coach at Brigham Young University in Provo, Utah. He holds bachelor's and master's degrees from Oregon State University.
Early coaching career
Edit
Bronco Mendenhall graduated from American Fork High School in 1984. In 1990, Bronco Mendenhall served as a graduate assistant coach at Oregon State University in Corvallis, Oregon. From 1991 to 1993, he served as the defensive coordinator for Snow College, a junior college in Ephraim, Utah. From 1993 to 1994, he served as the defensive coordinator for Northern Arizona University. From 1995 to 1996, he served as the defensive coordinator for Oregon State. After the 1996 season he was fired from Oregon State. In 1997, he served as the Secondary Coach at Louisiana Tech. From 1998 to 2002, he served as the defensive coordinator for the University of New Mexico, where he and head coach Rocky Long developed a blitz-happy 3-3-5 defensive scheme that produced NFL first round draft pick Brian Urlacher, who played in New Mexico's "Loboback" position, a cross between a linebacker and safety. Of Urlacher, Mendenhall said, "He had the most passion and non-stop motor of any player I've watched or coached. For him to come from a small place with only one real scholarship offer, to what he is now, is really a testament of hard work and dedication, and he deserves everything."
Move to BYU
Edit
In 2003 Bronco Mendenhall accepted the job to serve as Defensive Coordinator at BYU under then-head coach Gary Crowton. After three straight losing seasons, Crowton resigned. After a windmill of events, including the job being offered to former Cougar linebacker and current Utah head coach Kyle Whittingham, Mendenhall placed a call to UNLV head coach Mike Sanford, who was then on the look for a defensive coordinator. Mendenhall and his wife, Holly, had sat their sons down to tell them about the move, when Whittingham rejected the offer from BYU and accepted the head coaching job at Utah. BYU players had been upset Mendenhall hadn't been offered the job, and in response, BYU athletic director Tom Holmoe interviewed Mendenhall first. Two weeks later, Mendenhall became BYU's head coach. In 2005, his first year at the helm, the Cougars finished the regular season with a 6-6 record. They appeared in the Las Vegas Bowl, their first bowl game
NCAA Awards
Ad blocker interference detected!
Wikia is a free-to-use site that makes money from advertising. We have a modified experience for viewers using ad blockers

Wikia is not accessible if you've made further modifications. Remove the custom ad blocker rule(s) and the page will load as expected.