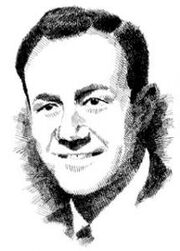 Charles L. "Chick" Atkinson (died 1962) was a college football coach. From 1949 to 1955, he coached at BYU, where he compiled an 18-49-3 record. This included an 0-11 record in 1949. In high school, he was all-state in football and basketball. He attended Idaho State College for 2 years, where he played football, basketball, and track. He attended University of Idaho for college.
Chick Atkinson came to BYU to coach football at a time when there were no grants-in-aid, no stadium, and very few capable football players. For seven years, from 1949 to 1955, he strove to build the Cougars into a unified, spirited team, emphasizing sportsmanship and hard effort on the playing field.
Chick was a talented athlete himself. While in high school in Pocatello, he was named to the All-State teams in both football and basketball. At Idaho State College, then a two-year school, he was involved in football, basketball, and track. And at the University of Idaho he was named to the Pacific Coast All-Conference team in baseball, captained the baseball and basketball teams, and was president of the letterman's club.
Beginning his coaching career at the high school level, Chick led Emmett High and Blackfoot High to the state championships in 1941 and 1942. His 1947 and 1948 Pocatello High teams tied for the class-A championships.
During his years as BYU coach, he earned the respect and admiration of team members and colleagues. He retired in 1955 to accept a position in private industry, and died in 1962.
1949 BYU 0–11
1950 BYU 4–5–1
1951 BYU 6–3–1
1952 BYU 4–6
1953 BYU 2–7–1
1954 BYU 1–8
1955 BYU 1–9

Ad blocker interference detected!
Wikia is a free-to-use site that makes money from advertising. We have a modified experience for viewers using ad blockers

Wikia is not accessible if you've made further modifications. Remove the custom ad blocker rule(s) and the page will load as expected.