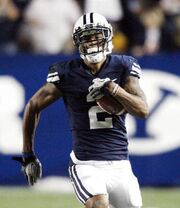 Number: 2
Position:Wide Receiver
Height: 6-4
Weight: 208
Class: Junior
Roster Years: 2009-2012
Hometown: Crescent City, CA
Last School: Del Norte High School
Before BYU
Edit
Caught 50 passes for more than 1,000 yards as a senior ... recorded seven 100-yard receiving games for Del Norte in 2008 ... named to the All-Humboldy-Del Norte Conference team three consecutive times ... caught nine passes for 229 yards and two touchdowns in a 31-28 win over rival Fortuna in October 2008 ... contributed to the Warriors league titles his sophomore and juniors years ... coached by Lewis Nova.
College Career
Edit
2010 Freshman Year
Edit
Earned letterman honors as a freshman ... played in 13 games, starting 10 ... first on the team with 527 receiving yards on 42 receptions and 7 touchdowns ... was also the Cougars' main kick returner, totaling a team-high 380 yards on 14 returns ... caught the first touchdown of his career at Florida State ... had 104 kick return yards vs. Wyoming ... caught five passes, including two touchdowns, for 71 yards vs. New Mexico ... had a team season-high 137 yards and 8 receptions against UTEP in the New Mexico Bowl, catching three touchdowns ... racked up 262 all-purpose yards vs. UTEP, the most since Austin Collie's mark vs. Tulsa in 2007 ... added a season-high 51-yard kickoff return in the bowl game
2011 Sophomore Year
Edit
Earned letterman honors ... Yahoo! Sports All-Independent Team, Phil Steele All-Independent First Team, FBS All-Independent Team ... became BYU's single-season leader in kickoff returns (36) and kickoff return yards (879) ... played and started in all 13 games ... led team in all receiving categories with 61 catches, 943 yards and 10 touchdowns while returning 36 kickoffs for 879 yards and one touchdown ... 1,825 all-purpose yards in 2011 are sixth-best single-season mark in BYU history ... had five 100-yard receiving games ... caught 8 passes for 138 yards and returned 8 kicks for 139 yards for 277 all-purpose yards for the sixth-best single game mark at BYU and a career high ... returned a kick 93 yards for a touchdown vs. UCF, the first kickoff returned for a score since 1998 ... had a career-high nine catches for 162 yards and one touchdown at Oregon State ... returned seven kicks for 167 yards at TCU and had four catches for 67 yards ... caught six passes for 114 yards and two touchdowns vs. Idaho ... had seven receptions for 123 yards and one touchdown at Hawai'i ... caught 8 passes for 122 yards and tied his own BYU-bowl record with three touchdowns, including the game-winner at the Armed Forces Bowl vs. Tulsa.