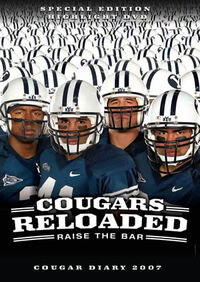 Cougars Reloaded
: Raise the Bar is a 2007 video. it features a season-long collection of game by game highlights produced by Mitchell Productions for Cougar Diary. From the season opening victory over Arizona, to the game winning drive over in-state rival Utah, Cougars Reloaded takes you behind the scenes and relives the action.
Relive the 2007 BYU Football season as the Cougars marched to an undefeated Mountain West Conference championship and a top 20 national ranking. Follow the great games and moments as BYU completed back-to-back undefeated conference seasons and the second-longest winning streak in college football.
Ad blocker interference detected!
Wikia is a free-to-use site that makes money from advertising. We have a modified experience for viewers using ad blockers

Wikia is not accessible if you've made further modifications. Remove the custom ad blocker rule(s) and the page will load as expected.