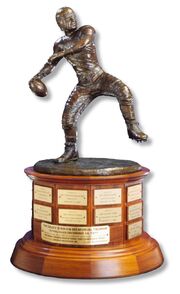 The
Davey O'Brien Award
, officially the Davey O'Brien National Quarterback Award, named after Davey O'Brien, is presented annually to the collegiate American football player adjudged by the Davey O'Brien Foundation to be the best of all National Collegiate Athletic Association quarterbacks. The Davey O'Brien Hall of Fame is housed at The Fort Worth Club in Fort Worth, Texas. The annual awards dinner and trophy presentation is held there as well usually in February.
In 1977, directly after the death of O'Brien, the award was established as the Davey O'Brien Memorial Trophy, and was given to the most outstanding player in the now-defunct Southwest Conference. Earl Campbell won the trophy in 1977, Billy Sims in 1978, and Mike Singletary won it twice in 1979 and 1980. In 1980, it was renamed to the Davey O'Brien Award, and from 1981 onwards it has been awarded to the nation's top quarterback annually.
The only people to have won the award twice are Danny Wuerffel of Florida, Ty Detmer of Brigham Young, and Jason White of Oklahoma.
Runners Up
Edit
Ad blocker interference detected!
Wikia is a free-to-use site that makes money from advertising. We have a modified experience for viewers using ad blockers

Wikia is not accessible if you've made further modifications. Remove the custom ad blocker rule(s) and the page will load as expected.