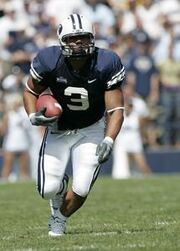 Naufahu Anitoni Tahi
(born October 30, 1981) is an American football fullback who is currently a free agent of the National Football League. He was signed by the Cincinnati Bengals as an undrafted free agent in 2006. He played college football at BYU. Tahi has also been a member of the Minnesota Vikings.
Early years
Edit
At Granger High School in West Valley City, Utah, Tahi was named the USA Today Player of the Year for Utah as a senior. Tahi rushed for a total of 5,700 yards and set a state record as the all-time leader in rushing yards and for rushing touchdowns
College career
Edit
Tahi attended Brigham Young University as a freshman in 1999 and led the team that year in rushing with 445 yards before taking a three year leave for a mission in Jacksonville, Florida as he is a member of The Church of Jesus Christ of Latter-day Saints. Tahi returned to Brigham Young in 2003 and had a career-best 872 yards rushing from scrimmage as a senior and scored 8 touchdowns (6 rushing and 2 receiving).
Professional career
Edit
Tahi was an undrafted free agent out of college and signed with the Cincinnati Bengals in 2006, but was released on final roster cuts and became a member of the team's practice squad.
Ad blocker interference detected!
Wikia is a free-to-use site that makes money from advertising. We have a modified experience for viewers using ad blockers

Wikia is not accessible if you've made further modifications. Remove the custom ad blocker rule(s) and the page will load as expected.