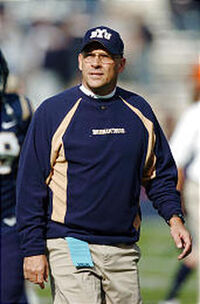 Gary Crowton (born June 14, 1957) is an American football coach.
Previously, Crowton served as offensive coordinator at the University of Oregon, head coach at Brigham Young University, offensive coordinator for the NFL's Chicago Bears, head coach at Louisiana Tech, and offensive coordinator at Louisiana State University, which won a national championship in 2008. Crowton is most known for his aggressive offensive style, such as the "razzle dazzle" offensive scheme utilized in Chicago. Crowton graduated from Orem High School in 1975 and went on to earn a B.S. in Physical Education from Brigham Young University in 1983
Head Coach
Edit
In 2001, After legendary Coach LaVall Edwards Retired, BYU hired Gary Crowton as the Head Coach During his four seasons at his alma mater, Crowton guided the Cougars to a 26-23 record to run his head coaching career mark to 47-36 in seven years. Crowton's best year with BYU came in 2001 when he led the Cougars to a 12-2 overall mark, capped with an appearance in the Liberty Bowl. Crowton's BYU offense scored 40 or more points 10 times that year, including 70 points in a win over Tulane and 44 in a victory over California. BYU led the nation in total offense (542.9 per game) and scoring (46.8 per game) in 2001 as the Cougars captured the Mountain West Conference title. Crowton was named the MWC Coach of the Year for his efforts in his first season at BYU. Other highlights for Crowton during his stay at BYU include a 44-16 win over California and a 41-38 victory over Mississippi State in 2001, and a 20-17 win over Notre Dame to open the 2004 campaign Gary Crowton resigned in 2004
Ad blocker interference detected!
Wikia is a free-to-use site that makes money from advertising. We have a modified experience for viewers using ad blockers

Wikia is not accessible if you've made further modifications. Remove the custom ad blocker rule(s) and the page will load as expected.