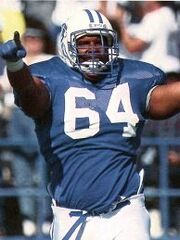 Number: 64
Position: Offensive Guard
Height: 6-4
Weight: 305
Roster Years: 1988-1989
Hometown: Kamloops British Columbia
Born in Lagos, Nigeria...full name is Mohammed Thomas David Elewonibi...mother is Canadian and father is Nigerian...did not play football in high school...a friend got him interested in football between soccer practices...lived first 11 years in Nigeria, now is a Canadian citizen...recruited by Hawai'i...one of few Nigerians to play college football...would like to follow in footsteps of Christian Okaye, who plays with the Kansas City Chiefs...plans to major in business management with a minor in Asian studies.
Before BYU
Edit
High School - Lettered in basketball, rugby, soccer and track in Victoria, British Columbia...region winner in shot put and discus.
Other College - All-conference and all-region at Snow College (Ephraim, Utah)...second team J.C. Gridwire NJCAA All-America.
College Career
Edit
1988 | Junior Year
Edit
Had shoulder surgery during spring practice...started only one game (Colorado State) during regular season but saw a lot of playing time.
1989 | Senior Year
Edit
Missed spring practice with should problems but expected to be a starter. Elewonibi won the Outland Trophy as the nation's best interior lineman.
Ad blocker interference detected!
Wikia is a free-to-use site that makes money from advertising. We have a modified experience for viewers using ad blockers

Wikia is not accessible if you've made further modifications. Remove the custom ad blocker rule(s) and the page will load as expected.