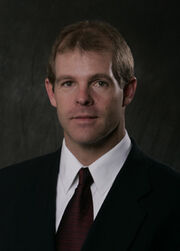 Education
Edit
William Penn University [1986, B.S. chemistry, minor in biology]; St. Cloud State University [1989, M.S. exercise physiology]; DeSales Catholic H.S. (Lockport, N.Y), 1982.
Prior to BYU
Edit
2004 Louisiana Tech tight ends coach and special teams coordinator. At UTEP, receivers coach 1998-99 and offensive coordinator 2000-2003. Running backs at Columbia University in New York City. From 1994-96, offensive coordinator and special teams coach at NCAA Division II Shepherd College in Shepherdstown, W. Va., where he also coached quarterbacks and receivers. Head coach at St. Andrews Prep in Savannah, Ga., in 1993. Head coach at William Penn College in Oskaloosa, Iowa in 1992. In 1991, he served as the defensive coordinator at Quincy University; and in 1990, he was the offensive coordinator for the Hawks. In 1989 was receivers coach at St. Cloud State in St. Cloud, Minn.
Years at BYU
Edit
Patrick serves as Outside Receivers & Special Teams Coach from 2005 to 2011. Higgins coached BYU All-American wide receiver Austin Collie and all-conference standout Todd Watkins, two of 15 players he coached during his career who have gone on to the NFL. Collie became the Cougars' all-time receiving leader with 3,255 yards. Also under his direction were kickers Mitch Payne and Matt Payne, who finished their careers ranked No. 1 and No. 2 on the MWC career kicking points list with 334 and 312 points, respectively. In 2010, Mitch also became BYU's all-time scoring leader. After six years as BYU's outside receivers coach and special teams coordinator, Patrick Higgins has accepted a position as wide receivers coach at Purdue University
Ad blocker interference detected!
Wikia is a free-to-use site that makes money from advertising. We have a modified experience for viewers using ad blockers

Wikia is not accessible if you've made further modifications. Remove the custom ad blocker rule(s) and the page will load as expected.