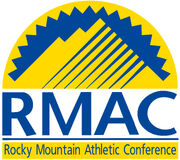 The Rocky Mountain Athletic Conference (RMAC) is a college athletic conference which operates in the western United States, mostly in Colorado with some members in Nebraska and New Mexico. It participates in the NCAA's Division II.
Founded in 1909, the RMAC is the fifth oldest college athletic conference in the United States (oldest in Division II), surpassed only by the Michigan Intercollegiate Athletic Association, the Big Ten Conference, the Ohio Athletic Conference, and the Missouri Valley Conference. For its first thirty years, the RMAC was considered a major conference equivalent to today's Division I, before 7 larger members left and formed the Mountain States Conference (also called the Skyline Conference).
The Colorado Faculty Athletic Conference changed its name to the Rocky Mountain Faculty Athletic Conference (RMFAC) on May 7, 1910. Continued until 1967 when the name of the conference changed to the Rocky Mountain Athletic Conference. The RMAC merged with the Colorado Athletic Conference in 1996.
BYU was a member of this confrence from 1918–1938.
Ad blocker interference detected!
Wikia is a free-to-use site that makes money from advertising. We have a modified experience for viewers using ad blockers

Wikia is not accessible if you've made further modifications. Remove the custom ad blocker rule(s) and the page will load as expected.