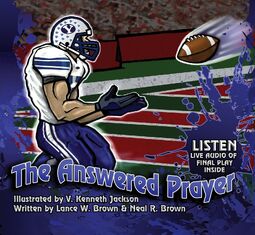 The Answered Prayer is an ilistrated book with Live Audio written by Lance W. Brown and Neal R. Brown, Illustrated by V. Kenneth Jackson.
The drama unfolds as you relive one of the greatest BYU finishes in the history of the storied BYU Utah rivalry. The Cougars demonstrate enormous faith and resilience as tight end Jonny Harline answers the prayers of quarterback John Beck, the BYU football team, and Cougar fans everywhere in this 2006 come-from-behind win.
Ad blocker interference detected!
Wikia is a free-to-use site that makes money from advertising. We have a modified experience for viewers using ad blockers

Wikia is not accessible if you've made further modifications. Remove the custom ad blocker rule(s) and the page will load as expected.