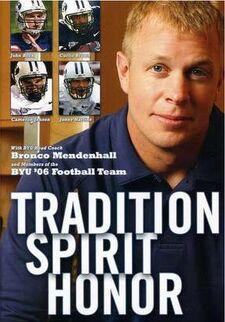 BYU Head Coach,
Bronco Mendenhall
, along with coaches and players from the 2006 Mountain West Championship team, talks about the importance of getting back to a the winning tradition, seeking the Spirit, and living honorably — three keys that have helped return success to the BYU football program.
Former quarterback John Beck, former running back Curtis Brown, former tight end Johnny Harline, and former linebacker Cameron Jensen share first-hand recollections of how Bronco Mendenhall influenced the team and motivated his players to be winners. In addition, they answer gospel-related questions that parents and youth leaders will especially appreciate. Questions such as:
How important is serving a full-time mission?
What was your missionary experience like?
How have the scriptures helped guide your life?
What does it mean to "live by the Spirit?"
What has the gospel of Jesus Christ done for you?
Tradition, Spirit, Honor reminds all of us of the tradition, spirit, and honor of the BYU football program while showing us what teamwork and individual excellence combined with the Spirit can achieve.
If the spiritual nature that we carry with us isn't first and foremost in our lives, then I don't think our priorities are correct. — Bronco Mendenhall
Product Details
Edit
Actors: Bronco Mendenhall
Directors: Scott Freebairn
Format: Anamorphic, HiFi Sound, NTSC, Widescreen
Rated: Unrated
Studio: Digital Bytes
DVD Release Date: September 26, 2007
Run Time: 40 minutes
Ad blocker interference detected!
Wikia is a free-to-use site that makes money from advertising. We have a modified experience for viewers using ad blockers

Wikia is not accessible if you've made further modifications. Remove the custom ad blocker rule(s) and the page will load as expected.